Medical College Hospital was inaugurated in the year 1993 with bed strength of 850 beds including Col. R.N.Chopra Nursing Home. Medical College Hospital houses with various clinical departments like Medicine, Surgery, Eye, Orthopaedics, Radiology, Anesthesiology, Blood Bank, Pathology, Microbiology and Bio-Chemistry for provide an array of services aimed at the well being of the people in its areas of operation.
Emergency
Govt. Medical College Hospital has a emergency wing which run round the clock with facilities like reception, enquiry/registration counter, observation, resuscitation, emergency ward, disaster ward, Blood Bank, emergency operation theatres, recovery wards and emergency labs. The specialists from Medicine, Surgery, Orthopaedics, Forensic Medicine and Casualty Medical Officers are also available. The senior consultants from all specialties/super specialties are on call duty. X-Ray, Ultrasound, Spiral CT, ECG, Plaster, Dressing facilities is available round the clock.

The well equipped Ambulances and Hearse body carriers are also available. On an average 200 patients per day attend the casualty, out of which, about 70 are admitted and about 10 to 12 are operated in the emergency operation theatres. The services of medical social workers are also available.

Helpline

Enquiry counters are available in OPD registration areas and in casualty, where information regarding the hospital and admitted patients etc. is provided by the Medical record technicians.




May I help You counter has been established at Govt. Medical College Hospital in front of emergency. The social guides working in this counter providing information regarding the hospital and consultants and admitted patients. A dedicated telephone with No. 0191-585444 is provided in the counter for providing information to the public. The counter has internal telephone 428 for internal communication. This counter keeps control of two ambulances, one ambulances is stationed at Gandhi Nagar Hospital and other at Govt. Medical College Hospital Jammu. The drivers are provided with pagers. Anyone requiring the services of these ambulances calls at May I help you counter from where these drivers are directed to report by these social guides.



VCTC for AIDS

Voluntary counseling and testing centre* for AIDS patient is also being run by Microbiology department for counseling and testing of HIV positive cases. This centre is situated in front of OPD registration area in Govt. Medical College Hospital. The services of one male and one female qualified counsellor in addition to laboratory back up for HIV testing are also available.

* Center opens on working days only.

Stores & Dispensary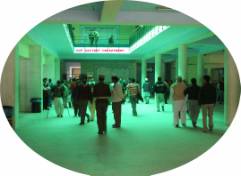 Every hospital is having its store which is headed by Medical Officer, Stores and managed by qualified pharmacists. Every effort is made to provide smooth supply of drugs, equipments, instruments and supplies to all the departments for proper functioning of the hospital. All efforts are made to provide most of the drugs to the patients admitted in the casualty and indoor wards. The costly drugs required by the poor/unattended patients are procured from the market on local purchased on recommendations of treating doctors. The victims of blasts, border firing and unnatural accidents are provided all necessary medicines from the hospital.


The hospital dispensaries also provide the medicines to the OPD patients. The list of drugs available in the hospital is displayed in the dispensary as well as in the different OPD's.

.